A WINNING TRADITION
While the focus of the Culkin School is to teach the traditions of Irish dance, many of our students also participate in the competitive world of Irish dancing.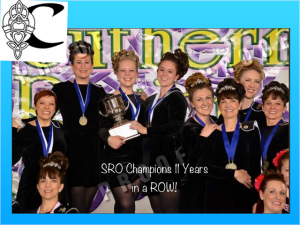 The Culkin School has seen a number of successful dancers and teams compete and place at the regional and national championship level, including multiple Southern Region solo and team championships. We are incredibly proud of our 85% recall rate at our 2015 Oireachtas resulting in 22 North American Championship qualifiers, 10 World Championship qualifiers and 5 top five dancers.
Our dancers have also competed and placed at the international level, participating in the Oireachtas Rince na h'Éireann (All Irelands Championships) and the Oireachtas Rince na Cruinne (World Championships).
---
NATIONAL CHAMPIONSHIPS TITLES:
2016 Adult Ladies Ceili National Champion
2009 Adult Ladies Ceili National Champion
REGIONAL CHAMPIONSHIP TITLES:
SOLO CHAMPIONS
2014 Boys Under 9 Regional Champion
2013 Girls Under 11 Regional Champion
2012 Girls Under 10 Regional Champion
2011 Girls Under 9 Regional Champion
2010 Girls Under 14 Regional Champion
2008 Boys Under 9 Regional Champion
2007 Boys Under 17 Regional Champion
2006 Boys Under 16 Regional Champion
2004 Boys Under 14 Regional Champion
2002 Girls Under 11 Regional Champion
2000 Ladies Over 20 Regional Champion
1999 Boys Under 9 Regional Champion
---
TEAM CHAMPIONS

2017 Ladies Four Hand Regional Champion
2015 Ladies Four Hand Regional Champion
2015 Ladies Eight Hand Regional Champion
2014 Ladies Eight Hand Regional Champion
2014 Ladies Four Hand Regional Champion
2013 Mixed Under 15 Eight Hand Regional Champion
2013 Mixed Under 15 Four Hand Regional Champion
2013 Adult Ladies Eight Hand Regional Champion
2013 Adult Ladies Four Hand Regional Champion
2012 Mixed Under 15 Eight Hand Regional Champion
2012 Adult Ladies Eight Hand Regional Champion
2012 Adult Mixed Four Hand Regional Champion
2011 Adult Ladies Eight Hand Regional Champion
2011 Adult Mixed Four Hand Regional Champion
2010 Mixed Under 12 Four Hand Regional Champion
2010 Adult Ladies Four Hand Regional Champion
2010 Adult Mixed Four Hand Regional Champion
2010 Adult Mixed Eight Hand Regional Champion
2009 Adult Ladies Four Hand Regional Champion
2008 Adult Ladies Four Hand Regional Champion
2008 Adult Ladies Eight Hand Regional Champion
2007 Adult Ladies Four Hand Regional Champion
2007 Adult Ladies Four Hand Regional Champion
2006 Adult Ladies Four Hand Regional Champion
2006 Adult Ladies Eight Hand Regional Champion
2006 Adult Mixed Eight Hand Regional Champion
2005 Adult Ladies Eight Hand Regional Champion
2005 Adult Ladies Four Hand Regional Champion
2004 Adult Ladies Four Hand Regional Champion
2004 Adult Mixed Four Hand Regional Champion
2004 Adult Ladies Eight Hand Regional Champion
2004 Adult Mixed Eight Hand Regional Champion
1999 Mixed Under 9 Four Hand Regional Champion
1999 Adult Mixed Four Hand Regional Champion